Skip to product information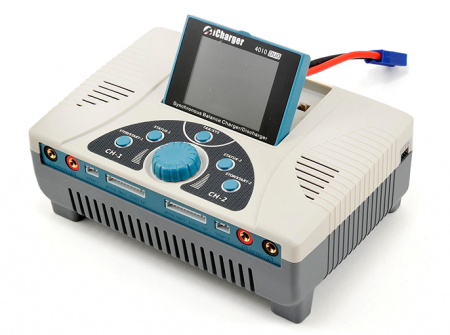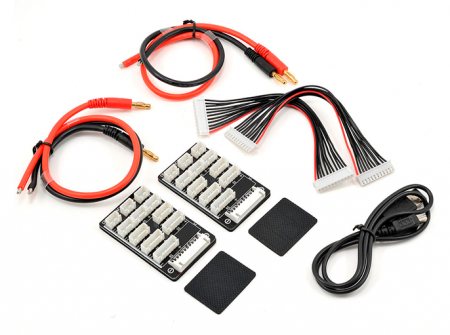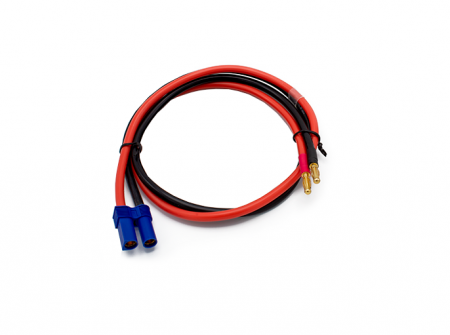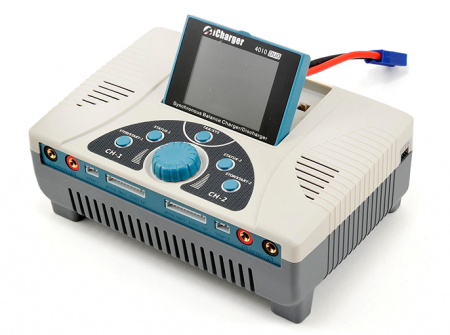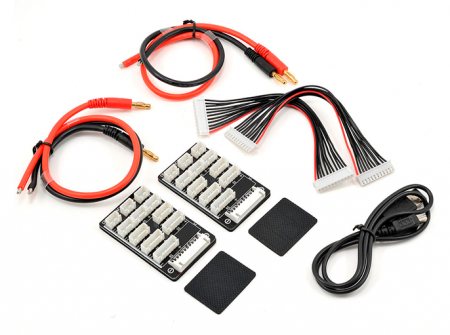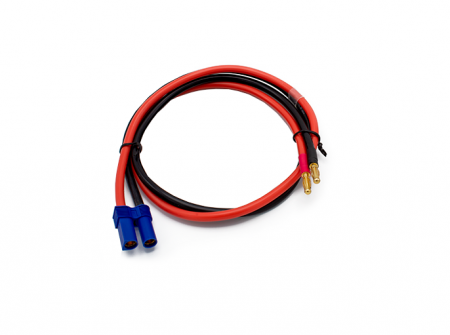 iCharger 4010 DUO 10S DC Charger
Price:
Regular price $379.99
Regular price Sale price $379.99
Unit price / per
Sale Sold out
Description 
Need flexibility in your charging?  Nothing beats the convenience of a powerful dual-port charger like the iCharger 4010 DUO.  Two independent charging channels in one compact unit lets you simultaneously work with batteries of different cell count, charging at up to 40A per channel.  Each channel supports 10S lithium batteries.  If you want to go all out, combine the two channels and charge at up to 70A on one port.
Charge your batteries safely and efficiently with this simple to use system!
Specifications:
Charge Power(Max): 2000W at >24V (1400W max. per channel)
Charge Current Range: 0.05-40A per channel (up to 70A in synchronous mode)
Input Voltage: 9 - 50V DC
Input Current limit: 65A
Discharge(Max): 130W per channel (up to 200W in synchronous mode)
Regenerative Discharge(Max): 1400W per channel (up to 2000W in synchronous mode)
External Discharge(Max): 1600W per channel (up to 3200W in synchronous mode)
Current Drain for Balancing: 1.2A per channel (up to 2.4A in synchronous mode)
Balance Accuracy: 10mV
LiPo/Li-ion/LiFe cell count: 1 - 10 series(1S-10S)
NiCd/NiMH cell count: 1 - 25 series
Lead-Acid Pb cell count: 2 - 18 series
Battery Setup Memories: 64 user presets
Intelligent Temperature Control: Yes
USB Charging Port: 5V, 1A (1.2A current limiting protection)
PC Connectivity: Mini USB 2.0
Dimensions: 210x140x80mm
Weight: 1.47kg
Manufacturer Warranty: 1 year
Included Accessories:
1 - DC Input Cable
2 - 10S JST-XH Balance boards(note that this board requires two 5S taps on the battery)
2 - Bare charge leads
1 - USB Cable
Links to product upgrade options:
MaxAmps 12V 62.5A 750W Power Supply
MaxAmps 12V 89.6A 1100W Power Supply
MaxAmps 24V 62.5A 1500W Power Supply
Dual Output MaxAmps 24V 62.5A 1500W Power Supply

Note: This charger requires a 9-50V DC power source.  Order one from the drop-down menu on this product and save.
Lifetime Battery Warranty
MaxAmps offers a one-time, non-transferable lifetime warranty on any battery with a factory defect. Batteries that fail from improper storage or use error are not covered. Replacements only apply to products purchased from MaxAmps and does not cover any other loss.
WARNING:Do not charge unattended! The user must have an appropriate understanding of the potential dangers of lithium batteries before purchase and usage. No expressed or implied guarantee of compatibility, suitability, or fitness for any particular purpose or device can be made.

DO NOT USE WITH UNPROTECTED DEVICE
ALWAYS USE A PROTECTIVE CASE OR BOX FOR STORAGE AND TRANSPORT
BATTERIES MAY EXPLODE, BURN, OR CAUSE A FIRE IF MISUSED OR MISHANDLED
ONLY use with proper protection circuitry
DO NOT short circuit intentionally or unintentionally
KEEP AWAY from metal/conductive objects to prevent short circuiting
DO NOT use if battery, wrapper or terminal insulator is damaged or torn
DO NOT over-charge or charge above the maximum voltage rating
DO NOT over-discharge or exceed the continuous discharge rating
DO NOT modify, disassemble, puncture, cut, crush, or incinerate
DO NOT expose to liquids or high temperatures
KEEP AWAY from pets and children
ALWAYS charge in or on a fire-proof surface and never leave batteries charging unattended
ONLY use a smart charger designed for this specific type of battery
DO NOT mix and match brands and models, old and new, used and unused batteries
STOP immediately if while charging/storing/using the battery it emits an unusual smell, feels hot, changes color or shape, or appears abnormal in any way
It is your responsibility to determine that your charger or device is functioning properly
If exposed to battery electrolyte, flush with water immediately and/or immediately contact a physician or emergency services
DO NOT throw away in the trash; contact your local jurisdiction for proper recycling or disposal
Returns
If in the first 30 days, you are not completely satisfied, you can send your items back for a replacement or your money back. This does not include shipping charge and does not apply to custom built batteries. You pay the return shipping charge and we pay for the replacement to be sent to you.
Shipping Policy
For domestic US shipping, we ship via FedEx, UPS, or USPS. If you prefer a certain carrier, please specify in the notes on your order. We offer FREE Standard 3-5 day shipping on orders over $199 to US locations only. If you need it faster, contact us for 2-Day Express or Overnight shipping options. Because lithium batteries are considered dangerous goods, carriers do not guarantee overnight shipping, but they do offer it. In our experience, we have had a 90%+ success rate using overnight shipping.
For international shipping, we primarily ship via FedEx Priority but we also offer UPS Standard Ground to Canada. If your country is not listed on the website, we may still be able to ship to your country. You will need to contact us for a custom shipping quote. Be aware that our shipping costs cover postage and insurance on the package but not import costs such as duties, taxes, or broker fees.
Tracking details will be emailed at the time of shipment. Please allow time for the online tracking status to update.
We make every effort to ship within 24 business hours. If you need your order to arrive by a certain date, be sure to contact us directly and we will do our best to satisfy your request. For possible lost in transit shipments, please contact us immediately so that we can contact the carrier.
Some batteries must be shipped as fully regulated dangerous goods and will arrive to you with a 30% charge. We recommend charging up to 60-70% shortly after receipt. In addition, our lithium batteries have passed UN38.3 Testing making them safe for transport. This test summary can be viewed/downloaded via this link if needed. 
Privacy Policy
This privacy policy discloses the privacy practices for (www.maxamps.com). By using our site, you consent to this privacy policy.
Information Collection, Use, and Sharing: We are the sole owners of the information collected on this site. We only collect information that you voluntarily give us via email, through ordering and/or registering, or other direct contact from you. We will not sell or rent this information to anyone. We will use your information to respond to you regarding the reason you contacted us. We will not share your information with any third party outside of our organization, other than as necessary to fulfill your request, e.g. to ship an order.
Unless you ask us not to, we may contact you via email in the future to tell you about specials, announcements, or changes to this privacy policy. You can do the following at any time by contacting us via the email address or phone number given on our website: see what data we have about you if any, change/correct any data we have about you, have us delete any data we have about you, or express any concern you have about the use of your data.
Security: We take precautions to protect your information. Wherever we collect sensitive information, such as credit card data, that information is encrypted and transmitted to us in a secure way. You can verify this by looking for a closed lock icon at the bottom of the page you are on, or looking for "https" at the beginning of the address of the web page. While we use encryption to protect sensitive information transmitted online, we also protect your information offline. Only employees who need the information to perform a specific job (for example, billing, customer service, or shipping) are granted access to personally identifiable information. The computers and servers in which we store personally identifiable information are kept in a secure environment.
Cookies: We use cookies on this site. A cookie is a piece of data stored on a site visitor's hard drive to help us improve your access to our site. For instance, when we use a cookie to identify you, you would not have to login a password more than once, thereby saving time while on our site. Cookies can also enable us to track and target interests of our users to enhance the experience on our site. Usage of a cookie is in no way linked to any personal identifiable information on our site.
Links: This website contains links to other sites. Please be aware that we are not responsible for the content or privacy practices of such other sites. We encourage our users to be aware when they leave our site and to read the privacy statements of any other site that collects personally identifiable information.
Updates: Our Privacy Policy may change from time to time and all updates will be posted on this page. This policy was last modified on 12/20/19.
If you feel that we are not abiding by this privacy policy, you should contact us immediately.
Terms of Service
User Agreement: This agreement is governed in accordance with the laws of the State of Washington. All users agree, through the use of this website, to the terms and conditions contained on this website. User hereby agrees to the exclusive jurisdiction in accordance to the courts of the State of Washington and any federal jurisdiction for any and all litigation. Please review all additional policies, such as the Privacy Policy, Liability Policy, Returns Policy, and Shipping Policy posted on this page. MaxAmps.com reserves the right to change or modify these policies at any time without prior notice.
Copyright Protection: All content on this Website (MaxAmps.com) are copyright. Any other use of materials on this Website without the prior written permission of Maxamps.com is strictly prohibited. Maxamps.com is not responsible for any content placed online by customers, including such content posted to alternate social media forums and third-party websites.
Trademark Protection: Trademarks, such as Maxamps.com, are either trademarks or registered trademarks of Maxamps.com. These trademarks may not be used in any way, except by the express written permission of MaxAmps.com, that may interfere with the business process or credit of Maxamps.com. Other products and company names mentioned on this Website may be the trademarks or registered trademarks of their respective owners.
Website Liability: MaxAmps.com, nor any of its affiliates, owners, employees, and/or other representatives will be liable for damages arising from or in-direct relation to the use of this Website. This includes all information, content, materials, and/or products included within this Website. MaxAmps.com reserves the right to cancel or refuse orders at our sole discretion. Please contact us immediately if you become aware of any errors or discrepancies.
Payment & Security
Your payment information is processed securely. We do not store credit card details nor have access to your credit card information.
security